The politics of redemption
By Dr Selwyn R. Cudjoe
July 11, 2022
It was a hot July day in the late 1990s when I received a call from a young man, full of enthusiasm, who wanted to make a difference in the lives of young people. He wanted me to address the members of an organisation he led. His name was Foster Cummings. I have never forgotten the devotion he applied to what he was doing.
I saw Cummings sporadically after that, most recently in July 2015 at a PNM meeting in Queens, New York, when he accompanied Dr Keith Rowley and other members of the PNM hierarchy to a political meeting there. He seemed slightly aloof on that occasion, but I chalked it up to the company he was keeping. A young politician, I suspect, had to show some gravitas and seriousness.
I followed Cummings' political development as he became more visible within the PNM, which he joined in 1987. I remembered the pleasure he took when he defeated a candidate proposed by Patrick Manning during a PNM internal election in 2006, and his boldness in asking Manning to excuse himself from PNM's General Council that deliberated his fate after he (Manning) lost the national election in 2010. In 2011, he challenged Ashton Ford for the general secretary of the party—an election he lost. Eventually, he gained that post when he ran as a part of Rowley's slate in 2018.
I recite this bit of political history to point out that Cummings is an ambitious man in the best sense of the term: a person who has a strong desire to achieve something through hard work and determination. Cummings has had some ethical lapses along the way, but he has tried to improve himself over time.
I need not repeat Cummings' humble beginnings since Warren Charles recited that aspect of his life in rich detail (Express, June 22). There are many aspects of Cummings' life to which I can relate: his father was a cane cutter at Caroni (1975), his mother was a market vendor at Couva market, he grew up in a home with no electricity, used a pitch oil lamp to study, and became a Spiritual Baptist along the way.
He went on to become an entrepreneur in the car rental business, then in the restaurant and bar business, before entering into general contracting. Today, he says, he has a family-owned business that employs over 150 people, "one of the few medium-sized black-owned general contracting firms in the country with its own fleet of heavy equipment, machinery and trucks".
What I find admirable about Cummings' story is the rise of a young black man who, in spite of his failings, ethical or otherwise, has risen to become somebody in our society. Although Cummings does not have a stellar academic record which many cherish, he has striven to carve out a path for himself and has worked arduously to fulfil it. Maybe our media needs to tell a bit more about those blacks who have made it in society.
Cummings' reclamation of his spiritual culture is also impressive. Here is a young man who had no qualms about going back to an African-based religion when the Eurocentric religions failed him. He aspires to lead the PNM eventually, and maybe this is where he may have ran afoul of many of his party colleagues.
Kareem Marcelle has laid Cummings' troubles on the UNC doorsteps and they may be pushing the fire (Express, June 23). However, the main objections to Cummings' political ambitions come from those in the PNM who find it objectionable for a young black man to be aiming at taking over the PNM when, in their view, they are better equipped to do so. UNC may be pushing the fire, but certain members within the PNM have provided the timber to light that fire.
Nor am I particularly perturbed that Cummings lacks a stellar academic record. George Chambers did not attend a university, nor was he a famed academic. He attended Osmond High School, became a parliamentary secretary in the Ministry of Finance when ANR Robinson was the Minister of Finance. He went on to become one of our outstanding prime ministers.
Cummings is not a saint by any means, but he needs to take the charges against him seriously. A few weeks ago, Gordon Erst, a former Georgetown University tennis coach who once coached Barack Obama's family, was sentenced to two and a half years in prison for "pocketing more than US$3 million in bribes in exchange for helping wealthy parents cheat their children's way into the school". (Boston Globe, July 2.)
In a letter to the judge, Erst apologised for his wrongdoing and promised to spend the rest of his life trying to make amends for his actions. "Looking back," he says, "I lacked the honesty and humility to do what was right and ask for help."
There is no doubt that a responsive court system that acted expeditiously helped Erst to own up to his wrongdoing. An equally efficient system could help many of our politicians to own up to their wrongs and change their lives.
Cummings may have sinned, but it's about time we learn to go easy on one another knowing, as Jesus commanded, "He that is without sin among you, let him first cast a stone at her." Cummings, however, needs to come clean with himself and his supporters.
He may have big goals for himself, but he needs to gird his loins "with truth, and put on the breastplate of righteousness". Needless to say, truth and righteousness matter enormously at this stage of our society's development. And a little humility and genuine atonement do not hurt.
Prof Cudjoe's e-mail address is scudjoe@wellesley.edu. He can be reached @ProfessorCudjoe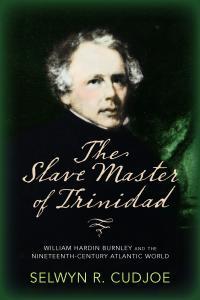 The Slave Master of Trinidad by Dr. Selwyn R. Cudjoe
---